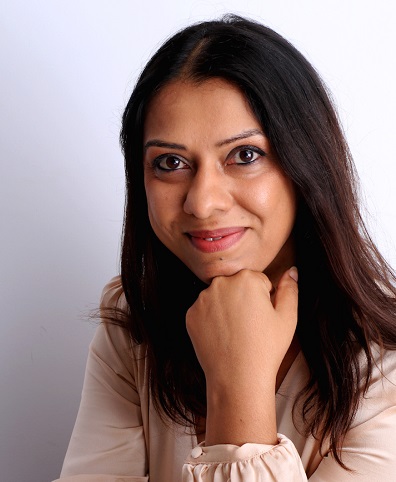 Discover Sandra Djina Ravalia, member of the ACP
Sandra Djina Ravalia
How I landed at ACP
I am French from Reunion Island and I moved to Montreal in 1995 to join my sister who was a student at the time.
In 2018 I decided to develop a branch of my activities in France.
After the pandemic, I was therefore guided in my Franco-Canadian steps by a specialized lawyer and it was she who invited me to an ACP evening!
What a joy to meet all these super friendly people with big hearts!
The job I do
I am a designer and a hypnotherapist.
My company, "Le Laboratoire de l'Identite Inc.", is from Quebec and to my delight, my clients are Canadian and European :) I accompany companies and individuals in coaching sessions in their specific objectives in order to transport them towards more dynamism, ecology, confidence ... and above all in accordance with their deep identities.
My tools are Neuro Linguistic Programming, hypnosis, neuroscience and creativity.

At the same time, I continue to create as a professional artist.
My next exhibition in March 2023 will be held at the First Nations Museum in Wendake and I have an ongoing exhibition until June 2023 with the city of Repentigny.
My favorite place in France and Canada
Gilles Vigneault said "My country is not a country, it's the winter". I would say that for me, Canadian spring and fall are my favorite "places"... and more specifically a forest in the Laurentians, a lake, some blue jays...
In France...I have a weakness for Brittany...the cities close to the ocean or downright Paris, a breath of culture and history (!) and in overseas France, it's the Reunion Island ! - of course -
My hidden talent
I love having friends over and cooking (world cuisines: Indian, Italian, Thai...)
I really like to sing jazz at karaoke.
Next step: I would like to learn to dance salsa cubana!
What I have learned in life
The joy of living is cultivated.
Joy is mental health, creation is breathing...