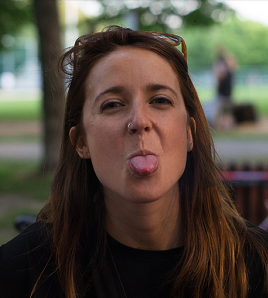 Discover Chloé Robillard, member of the ACP
Chloé Robillard
How I landed in ACP
I was put in contact with Marilène Garceau by my employer to help me in my transition between Canada and France, but it was only after a year of taking advantage (a little too much) of Parisian nights and traveling (a little too much as well) for work that I finally took part in my first Canadian event in Paris ... on Saint-Jean-Baptiste (what could be better!). It was from that moment that I really integrated into this beautiful bunch of crazy Canadians and finally made the move to join the ACP.
What I do for a living
I am a producer at Moment Factory, a multimedia studio. We are a company that was initially based in Quebec, but we have had an office in Paris for a few years and therefore take care of European projects.
My favorite place in France or Canada
You will probably find me in a French or Canadian restaurant / bar which has just opened and which serves fancy dishes and overpriced funky wine. In short, if you are looking for a restaurant, I will surely have a suggestion for you. :) Otherwise, I like out of the way places: in France, the dune of Pilat is a must to see and on a different note, you have to spend a day at the St-Ouen flea market!
My hidden talent
Mmmm, tour guide ...? ... You don't want to see my google map and all the places I have tried or still need to try …!
What I learned in life
What doesn't kill us makes us stronger!