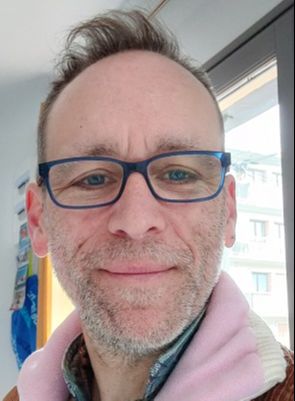 Discover Mickaël Jouyaux, member of the ACP
Mickaël Jouyaux
How I landed in ACP
I was born in Montreal to Canadian parents in May 68 :). Adopted at 9 months, I (first) landed in France where I grew up with adoptive parents from Brittany. In close connection with my natural family in Quebec for almost 30 years, with the mother of my 2 children, I was ready at the beginning of 2020 to leave to live and work for a few years in the country until the Covid put an end to the project. The ACP subsequently became a natural ally!
What I do for a living
For France and Europe, I manage the activity of LNDMRK, the Montreal artistic agency that organizes the urban visual art festival Mural. We deploy international artists all over the world who work for major brands and administrations. Our artistic collaborations can take the form of capsule collections, marketing activations, murals, etc. My job is mainly to develop new markets... with the strength of the wrist in this case
My favorite place in France and Canada
It's probably caricatural for a Frenchman like me, but above all I love Montreal, my hometown, the banks of the river and Charlevoix. On this side of the Atlantic, the blue blood of Brittany runs through my veins and I particularly like its entire north coast, the hydrangeas that line it, Ploumanac'h, Moguériec... The list is too long.
My hidden talent
No talent of which my two hands would be the main actors! Besides, I like to write (but not the time) and I like to sing (but not the time anymore). One day we will have to solve these two obstacles to total well-being :))
What I learned in life
I learned that sometimes you have to know how to "go to the obvious" to accept them and feel better. I learned that there is no point in running... I let you guess the rest. Finally, I learned that following your own star by believing in it was a good way to gain self-esteem and achieve certain determining personal goals.